LeBron James does not want to talk about free agency. This is a pretty standard line for NBA stars in the final season of their contracts, of which there are many this season.
James has gone through two major free agencies before, in 2010 and 2014, and said that in both cases, he did not let his pending July decisions affect how he approached his work in the months ahead of those decisions. He does not intend to do so now.
But, speaking at Cavs media day on Monday, he confessed that he is happy we're asking. It means that even as those of us in the media pass him over when we make our season-award picks (James went from third in MVP balloting two years ago to fourth last season), we know where the league's bread is buttered.It's still James, and even with Russell Westbrook and Paul George set to hit the market next summer, James' free-agent decision will dominate all speculation.
It's still James, and even with Russell Westbrook and Paul George set to hit the market next summer, James' free-agent decision will dominate all speculation.
"The fact that I've gotta come up here and talk about free agency," James said, smiling, "lets me know where my game is."
James then clammed up and glanced around at some of the puzzled looks. "Does that make sense?" he asked, before clearing all doubt of what he meant. "If I wasn't that good, I don't think we'd be talking about it."
So, clearly, James is good. Still. He was terrific last season, averaging 26.4 points, 8.7 assists and 8.6 rebounds, and recovered from an off shooting year by making 36.3 percent of his 3s and 54.8 percent from the field. He will turn 33 in three
He will turn 33 in three months, and has already put 14 seasons, eight NBA Finals appearances and three championships into the books. The annals of NBA history suggest he should be winding down, and yet, this has the feel of what could be the most important year of James' career.
James just underwent what, in any other season, would have been the most tumultuous few months with any organization. The Cavaliers fumbled away so much this summer, including well-respected general manager David Griffin and a chance to trade for George back when Indiana was still looking to unload him.
Star point guard Kyrie Irving became disenchanted with the way the Cavaliers were handling their business, and was also weighing the contradictory problems of being in Cleveland without James, should he leave in free agency next summer and stick Irving with a bare-cabinet roster, or being in Cleveland with James, where he would continue to operate as a minion and never a boss.
It was a lot, and no one could blame James for looking at the self-inflicted wounds of the franchise and deciding he'd better check out sooner rather than later.
Instead, James showed up rearing for the coming season. He explained his disappointment with Irving's decision to ask for a trade out of town, and contacting Irving to discuss it.
"I reached out to him because I just wanted to get a little insight into why he wanted to move on," James said. "It was like I said, I had a lot of emotions in my head but I am one to always reach out to someone and just see from their vantage point."
But he quickly added that the Cavs, as constructed, are as deep as they've been since he came back to Cleveland in 2014. They got back Isaiah Thomas and Jae Crowder in the Irving deal, and Thomas will be a key complementary scorer when he returns from his hip injury around late December or early January. Crowder gives Cleveland the kind of rugged perimeter defender it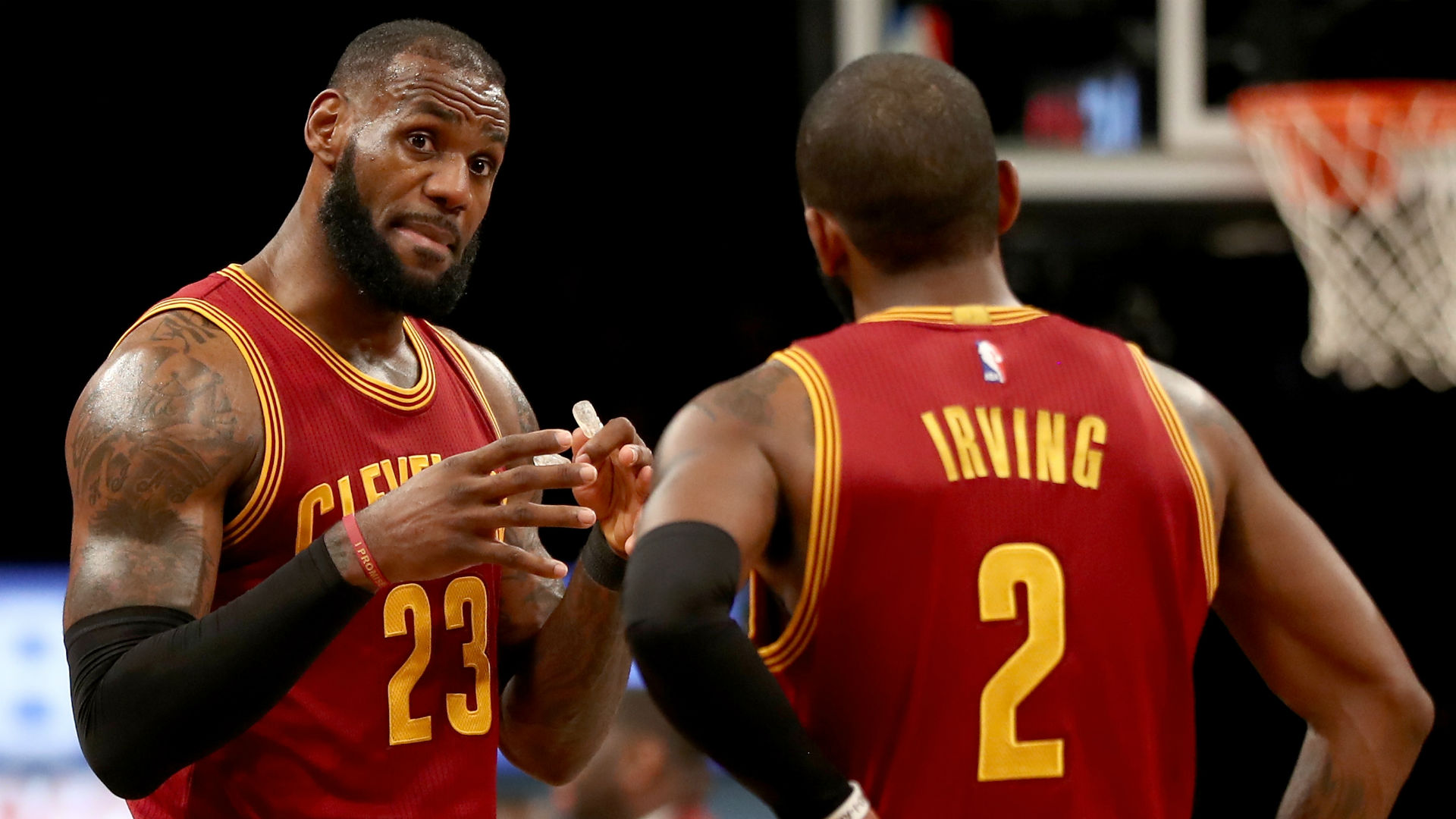 Crowder gives Cleveland the kind of rugged perimeter defender it lacked when trying to deal with Kevin Durant in last year's NBA Finals. There are wildcard signings, too: Derrick Rose, Jose Calderon and a possible addition of guard Dwyane Wade.
Always, though, the question about James concerns what's next. There has been speculation that he would skip out on Cleveland and head to the Lakers next summer to finish out his career, and that speculation goes back more than a year, an indication of the power of what's next when it comes to James.
It's hard to imagine James leaving Cleveland, but the Lakers would make sense. No other team in the league makes sense, though in the coming months we will hear rumors of his back-channel interest in, say, Miami or Houston or San Antonio or, heck, Orlando.
What's not determined, and what only James knows, is how the events of this season will affect what's next. If James leads the Cavaliers back to the Finals and wins a championship, does he then feel obligated to stay put and keep winning? Or will he feel that he's fulfilled his obligation to his hometown team and he is free to move someplace sunny to settle down? How about if the Cavs lose, again, to the Warriors in the Finals?
What about if James loses his grip on the Eastern Conference now that he has his most legitimate challenger, the Celtics? Does failure to reach the Finals at all make James more or less likely to pack up and head West?
James isn't saying. He acknowledged that he's said he wants to retire in Cleveland, and still does. But from there, his sentiments get fuzzy.
"It hasn't changed," James said. "That's why I sit up here today, still in this uniform, still ready to lead this organization to a championship. Obviously, you guys know me and anytime I'm able to be a free agent or my contract is ending, then I will approach that when the summer comes. I won't ever cheat my teammates or cheat the fans or be in a situation where I am talking about free agency all year long. Because I'm not going to give energy to something I can handle in the summertime."
So we'll have to wait, as expected. We'll spend the next eight months enthralled with the star-player experiments going on in Houston and Oklahoma City, wondering whether Boston is really as good as all that talent suggests, debating the potential of young teams in Philadelphia, Milwaukee and Minnesota.
But deep down, we know those are distractions. This season is about James and his future. We'll grasp storylines wherever they come up. But the thought will be the same everywhere: LeBron … what's next?
Dear Reader,
We need to talk. Facebook has targeted our site, preventing over half of our stories from reaching our readers. We believe this is wrong and, honestly, we need your help to continue producing the quality news and opinion we produce every day. You can help make that possible:
Read This Article About Facebooks Issue with Conservatives
Donate to help us fund a journalist to fight the corruption in the mainstream media: